Neurological Conditions
Nerve palsy, Strokes, Head injuries, Spinal injuries, Multiple sclerosis, Parkisons, Muscle Wasting, Cerbral Palsy, Bells Palsy, Motor Neurone Disease, Muscular Dystrophy etc.
Theresa McGinn, our clinic director worked in University College Cork for 5 years where she was Senior Physiotherapist in Neurology and Neurosurgery.  After that she moved to the O'Neill Centre in Kilkenny where she was the Senior Physiotherapist in Paediatric Neurology.
Theresa' first love is neurlogy and she has extensive post graduate training in neurolgy which she passes on to all her staff in inservice training.
In our clinic we are happy to take on all clients with neurological issues.
We use Normal Movement Patterns, Proprioceptive Neuromuscular Facilitation, Functional Movements and Bobath to treat neurological conditions.
Many patients are discharged from the health services when they have reached a certain level and length of time from their neurological episode, we are happy to work with all clients no matter what stage of their rehabilitation or disease progression they are at.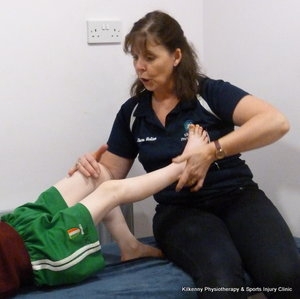 We have experience with all neurological conditions but tend to see more strokes, head injuries and cerebral palsy than other conditions, as many people do not realise that physiotherapy treatment is available to help them maintain their mobility, strength and flexibility if they have a progressive disease, or to help them regain function if they are recovering.