Delayed Development
Babies and children develop at their own pace, but some children may have significantly delayed development.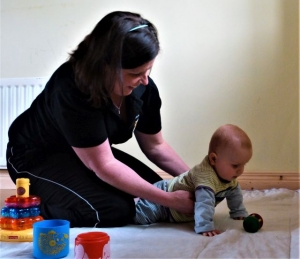 Milestones are significant stages in the development of your child. They may be physical, mental, speech or social milestones, but they are only guidelines. Not all children will reach these milestones at exactly the same time. If a child is failing to reach milestones within a few weeks or months of the expected age, they may be diagnosed with developmental delay. Physiotherapy for children with delayed development is one of our most challenging but rewarding parts of our physiotherapy work.
There may be a number of reasons why a child may not reach these milestones. Some can be indicative of underlying serious issues, possibly hereditary in nature or as a result of an issue during the pregnancy or at the birth. This may result in severe delay in development.
Commonly however the delay in development may be mild and may be due to more simple issues such as;
inadequate tummy time,
over dependence on older siblings
bum shuffling instead of crawling
birth by C section
slight trauma at birth
second twin
In these cases the developmental issues may respond quickly to physiotherapy input. In more severe cases ongoing physiotherapy may be required.
Physiotherapy for delayed development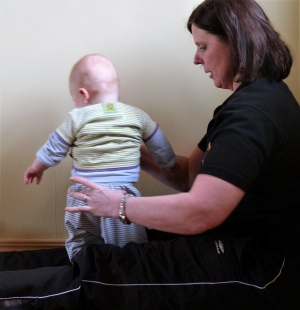 In Kilkenny Physiotherapy clinic we have years of experience in treating delayed development in children. Our approach is to do a detailed assessment to determine what the reason for the delayed development is. Then, we intervene and offer a structured hands on and exercise based treatment regime.
We use the Bobath approach as our basis for treatment. Theresa McGinn has spent years as senior physiotherapist in Neurology and neurosurgery in Cork Regional Hospital. Then, she was the sole physiotherapist in Enable Ireland in Kilkenny. As a result, the level of expertise in our clinic in treating children with developmental delay is of a very high level.
In severe cases, where there is actually neurological deficit, the input of physiotherapy will be more intense and ongoing for years, but it is amazing what can be achieved when a knowledgeable physiotherapist gets down on the floor, really interacts with a child, and uses a hands on approach to release tight muscles, mobilise stiff joints and facilitate movement by using repetitive normal movement techniques.
Children's Physiotherapy
As there are very few chartered physiotherapists working with children in private practice we find ourselves providing children's physiotherapy to children with delayed development and neurological conditions in the wider South Eastern region. Children travel to us from as far as Enniscorthy in Co.Wexford, Athy in Co Kildare, to Templemore in Co Tipperary. We have a large number of children attending from Carlow, Laois and Waterford as well as many children from Kilkenny city and surrounding area. As we understand that every child only passes through each developmental stage once, and we must get the best out of the child at each stage. We are passionate about how we treat children, and believe in a hands on approach, down on the floor, engaging with the child and facilitating movement.