Pilates in Kilkenny Christmas Term- Week Beginning 6th November
ALL INSTRUCTORS ARE CHARTERED PHYSIOTHERAPISTS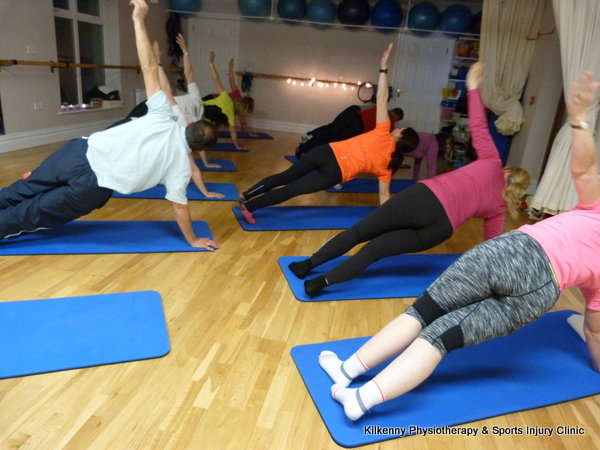 Kilkenny Classes – 085 7577842 / 056 7752258
Held in Kilkenny Physiotherapy & Sports Injury Clinic Pilates Studio
Directions: 100m from McDonagh Junction / St John's Church on Dublin rd., next door to AXA Insurance
Beginners 1 & 2 Monday 5.35pm
Sports Pilates Monday 6.45pm 5
Beginners 1 & 2 Tuesday 10.00am
Neck Pilates Tuesday 6.00pm
Beginners 1 & 2 Tuesday 8.05pm
Express Pilates (45mins) Wednesday 1.00pm
Intermediate Thursday 7.00pm
Absolute Beginners Thursday 8.05pm
Beginners 1 & 2 Friday 9.30am
Teen Pilates Friday 4.00pm
PREGNANCY & POST NATAL PILATES
Post Natal Class (bring baby) Monday 11.00am (5 wk blocks)
Pregnancy Pilates (Ante Natal) Tuesday 7.00pm (5 wk blocks)
Pregnancy Pilates (Ante Natal) Wednesday 6.00pm (5 wk blocks)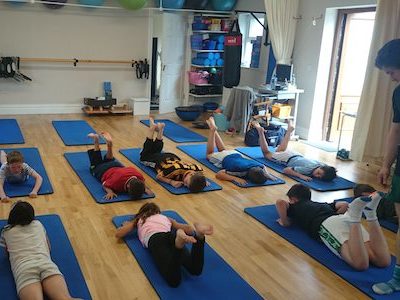 Clontubrid Classes – 086 6611163
Held in Core Clinic Clontubrid, Freshford
Directions:
From Freshford -Take Ballyragget Rd.,After 1 mile branch off (L) on the L1809 Clontubrid and Cullahill. Travel 1.0 miles to Stone House in front of you at crossroads on (R) Turn (R) at crossroads, and immediately take driveway on (L).
From Ballyragget – Take Freshford Rd. R694, at Phelan's Hardware shop. About 3 miles along take second (R) turn at green grass triangle L1810 – for Clontubrid – Before crossroads take driveway on (R) to stone house.
Beginners Tuesday 11.00am
Intermediate Wednesday 7.00pm
Beginners Thursday 7.00pm
Beginners Thursday 8.15pm
Sports Class Friday 8,30pm
Class types
Pilates- Suitable for beginners and Improvers. More challenging options are given to those that have done pilates before.
Neck Pilates – suitable for all but focuses more on stretching and strengthening the neck and upper body in a safe manner to reduce neck and upper back pain
Intermediate Pilates- Not suitable for beginners. Suitable for those who have done 1-3 courses of pilates with us before and want to be further challenged.
Sports Pilates- This class is aimed at those who want to use pilates to strengthen Core and prevent injuries from occurring.
Express Pilates- This is our only 45minute class aimed at those who want to do pilates during their lunch hour. This class is taught at a slightly quicker pace.
Ante Natal- Pregnancy pilates class.
Post Natal- Post pregnancy class. We advise you join 4 weeks after normal delivery and 9 weeks after caesarean section.
Teen Pilates- For 12 – 16 yr olds to improve posture, core strength, knee alignment and prevent injury
All classes must be booked for in advance. Contact us on 056-7752258 or email pilates.kilkennyphysio@gmail.com for more information and to book your class
All courses must be paid for by the first night. You have the option to make up for missed classes in another relevant class throughout the same term / course