What is Pilates?
Pilates is a form of exercise which focuses on strengthening your deep core muscles while you engage in a series of exercises which strengthen your hip, leg, shoulder and arm muscles. It bring all parts of your body through full range of movements strengthening the muscles throughout their entire range of motion.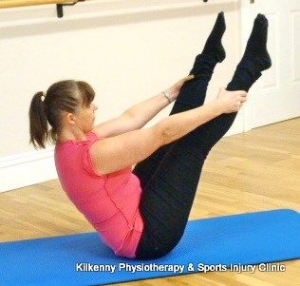 It differs from the usual "core" strengthening you hear of, in that it engages the deepest muscles, transversus abdominus, in your body rather than just "bracing your abdominals" as you see many people do when they try to recruit their core muscles. The advantage of this is that you can train your deep core muscles to switch on, and stay switched on while you carry on normal activities such as walking, working, running and playing sport.
Ultimately this provides protection for your spine and joints, helps prevent muscles such as your hamstrings from overworking, and hence reduces the incidence of injury.
History of Pilates?
Pilates was developed in the early 20th century by a German physical trainer called Joseph Pilates who was born in 1880. He had several illnesses as a child and as he grew he studied various forms of exercise including body building, yoga and even gymnastics to try and overcome his own problems. He then developed a series of exercises to suit himself  which improved his physical and mental well being and he became exceptionally fit and these exercises became what pilates now is.
Years later in America he began working with dancers, gymnasts and athletes and developed Pilates as a form of exercise for all.

Joseph Pilates listed 8 components of pilates:
Relaxation

Concentration

Co-ordination

Alignment

Breathing

Flowing movement

Empowering the centre

Stamina
Over the years many organisations have used the same principles of Pilates exercise as established by Mr Pilates, but put their own slant on them hence many very effective and safe forms of Pilates have emerged.
Pilates in Kilkenny Physiotherapy Clinic
Our Pilates instructors here in Kilkenny Physiotherapy Clinic and Core Clinic in Clontubrid are qualified in the STOTT Pilates Technique or the Australian Physiotherapy Pilates Institute (APPI).
All instructors are also Chartered Physiotherapists, as we feel this is best for the client as they have an in-depth understanding of Normal Movement and will be best equipped to teach these detailed exercises effectively and safely.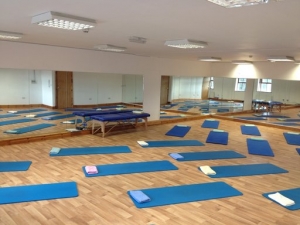 We will ONLY allow CHARTERED PHYSIOTHERAPIST who have done further training in Pilates teach in our studios in Kilkenny on the Dublin rd., and in Clontubrid, Freshford, Co. Kilkenny. Many Chartered Physiotherapists do teach clinical pilates based on their Physiotherapy training, skills and further education, however we insist that all our Pilates Instructors do additional Structured Pilates Training.
We also teach Stability Ball classes which are in essence a form of pilates using and exercise ball.
Check out all our class times.
Core principles of Pilates
There are five basic principles of Pilates, which will be taught to you in your first class;
Breathing
Pelvic Placement
Rib Cage Placement
Scapular Movement and Stabilization
Head and Cervical placement
With all of this in mind, the essence or the aim of Pilates is to;
Target Muscles to help strengthen and tone them
Improve Stability
Promote Mobility
Promote Sequencing (i.e. the order in which movements happen)
Improve Endurance
Improve Balance
Who can do Pilates?
Everybody. Pilates is suitable for both men and women, from teenagers to the elderly, including;
Beginners Pilates classes are suitable for those who have a little or no Pilates experience. They are designed and taught in a way which enables you to perfect your technique as you learn thus ensuring safe exercising.
The classes will start to strengthen your deep core muscles, gluteal muscles and all of your postural muscles.
On the first day we'll give you a detailed explanation on how to recruit your deep core muscles. We'll explain the exercises simply to ensure that they are easily understood and to reduce any risk of injury. Class times & booking.
Improver Pilates classes are suitable for those who have completed a few courses of Pilates and have a grasp of the concept. These classes are used to perfect your technique and so further enhance your core strength.
In the Improver class, our instructors cleverly modify the exercises to meet the needs of each individual. The focus is still on technique perfection as you challenge yourself further. If you feel as though you'd like a bit more challenge, discuss with your instructor about trying out this class. It moves at a faster pace than the beginners class. Class times & Booking:

Intermediate Pilates classes move at a higher pace than all other classes, and require a substantial degree of core strength and flexibility. It is also important to to have a good understanding of the basic principals and exercises before joining this class.
We frequently find people who have done pilates, ant think they are ready for Intermediate, have not actually mastered a good technique. We will not offer Intermediate classes to someone who does not have a good basis for the more challenging exercises. If you think you would be suited to an intermediate class, discuss it with you instructor who will be able to advise you on whether or not it would be suitable for you. Class times & Booking:
Sports Pilates Classes
Sports Pilates Classes in Kilkenny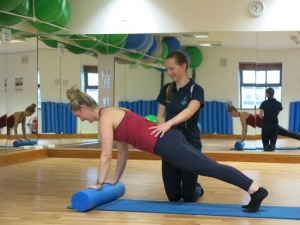 Physiotherapy Clinic are designed for sports people who wish to improve their deep core strength. The class aims to improve performance and reduce the risk of injury.
Many elite athletes and professional teams such as soccer, rugby and GAA inter county teams use sports pilates as preseason training, or to aid returning to sport after an injury.
The chartered physiotherapist leading the class will ensure that your technique is perfected and that you are exercising safely. Class times & Booking: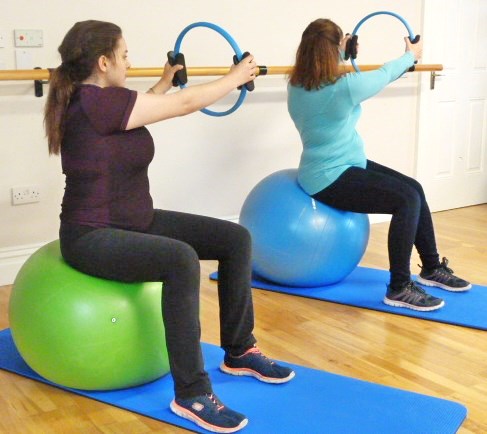 Ante Natal (pregnancy) Pilates classes are of huge benefit to women as they go through pregnancy. During pregnancy, there is extra strain on all of the joints in the body, especially the sacroiliac joint (SIJ), the spine and the hips. This strain is a result of the extra weight of the baby, along with hormonal changes causing ligament softening. This can lead to a number of issues, including pain in these areas, and research has shown that exercise can help reduce this pain.
As all of our Pilates classes are physiotherapist led, you can be sure that you are exercising in a safe environment, while also getting hints and tips to help you throughout your pregnancy. Class times & Booking:
Our Post Natal Pilates classes are an excellent way to get back in shape after pregnancy, and strengthen your core and abdominal muscles. You can bring your baby along and there is no pressure if the baby cries or you need to feed. There's also a cup of tea and a chat at the end, which is what every mum needs when you have a new baby.
You can join our Post Natal classes as soon as 4 weeks after giving birth if it was a non-eventful pregnancy and a normal birth. If you had a cesarean section, you can join 9 weeks after birth. Class times & Booking: 
We have special Pilates classes to suit teenagers, where the exercises are adapted to make them more enjoyable for this age group. The exercises often include the use of an exercise ball and mini games and competitions to help keep interest. These classes are beneficial in many ways, including improving posture, flexibility and sporting ability, as well as reducing the risk of injury. Class times & Booking:
Our rehab Pilates class is designed to cater for individuals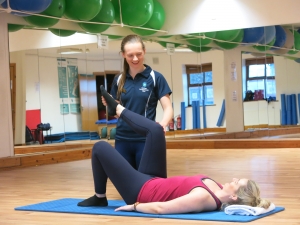 with neurological or mobility impairments, including individuals post stroke.
The physiotherapists leading the class are able to adapt the exercises to suit the individuals specific needs, while ensuring that they are exercising safely and to the best of their potential.
If you are unable to get down on the floor the exercises can be done on a plinth or chair. Class times & Booking:
As all of our instructors are Chartered Physiotherapists, you can be guaranteed that the instruction will be excellent, thorough and safe.
To book a place in our Pilates class classes click Here.
Directions to our Pilates studios.
Note:
All courses must be paid for on or before the first night. No Refunds or carrying forward to another term for missed classes. Missed nights may be made up in another class during any given term,  if spaces are available and requested.
To enroll in any of the above classes use 1 of the following options:
Use our contact us page and enter your details and your preference of classes

Call 056 7752258 for Kilkenny Classes

Call 086 6611163 for Freshford Classes