Treatment for Foot Pain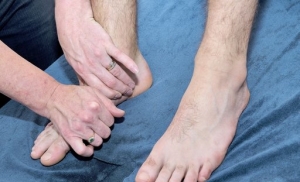 This is one of our main areas of expertise. As a result, clients travel from far and wide, and are referred by foot surgeons from the  Blackrock Clinic, Mater Hospital, Auteven Hospital, Waterford Regional Hospital and the Whitfield Clinic, to avail of this specialist service.
The local GPs are well aware of our expertise in this area, but we are pleased to see the GPs from neighbouring counties, Carlow, Wexford, Tipperary and Laois all referring their patients for our services.
There are so many causes of foot pain and it can be so debilitating that it is imperative that there is a thorough and comprehensive assessment followed by appropriate treatment.
Types of Foot Pain
To help you decide if physiotherapy is right for you, here are a few of the most common foot complaints we see in the clinic;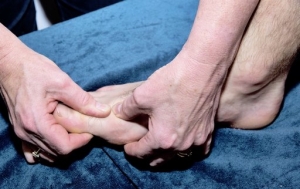 Heel Pain / Heel Spur

Arch Pain / Plantar Fasciitis

Forefoot Pain /Matatarsalgia

Ball of Foot Pain

Calf Pain

Shin Pain

Ankle Pain

Toe Pain

Hallux Valgus / Bunions

Ingrown Toe Nails

Corns / Callous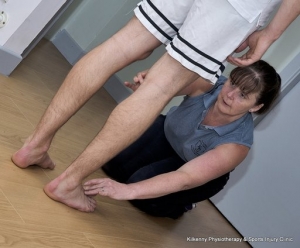 Physiotherapy
Before treatment is commenced, a very detailed assessment is carried out. We look at the presenting problem, the associated joints of the foot and ankle, The hip knee and back. We assess muscle flexibility and strength. As well as this, we do a bio-mechanical assessment. Our findings enable us to provide very accurate treatment and help prevent recurrence of problem.
Orthotics are frequently, but not always part of the plan.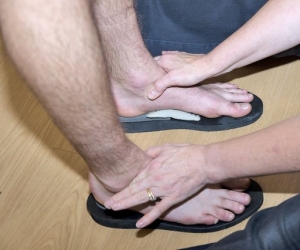 We are constantly updating our skills in the area of foot pain, and are members of IOFAS, the Irish Orthopaedic Foot and Ankle Society which is a special interest groups of Orthopaedic surgeons, physios, podiatrists etc., who have a special interest in the whole area of foot and lower limb pain. The education supplied through this society is invaluable.